Circular Wall Forms System (CCRV)
Outinord CCRV is a multi-purpose tool used in many construction tasks, both for architectural projects, where the surface quality must be flawless, and for civil works, such as water treatment plants.
OVERLAY POURING: CCRV enables 10 linear meters high concrete walls to be cast on a daily basis, with minimum personnel. The CCRV is equipped with connection and components to plumb and superimpose panels, enabling the use of upper and lower extensions.
FAST MODIFICATION OF CIRCULAR RADIUS
A variable radius circular formwork system that uses turnbuckles affixed to the vertical stiffeners to increase or decrease the curvature. Safety, access and stabilization equipment is supplied as standard.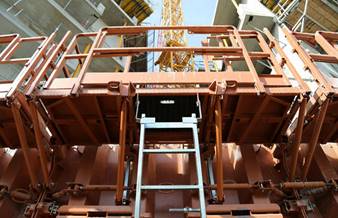 All exterior and interior walkways with railing and gates
Ensemble de passerelles extérieures et intérieures avec gardecorps et portillons d'extrémité,
Protection côté face coffrante sur les panneaux intérieurs et extérieurs
Ensemble palier et son échelle avec accès par trappe à la passerelle.
Simple use.
Large range of use.
Robust and reliable.
Complete integrated safety